Jimmy Carter: Can Obama trust him in North Korea talks?
Jimmy Carter gained a reputation as an independent actor when President Clinton sent him to North Korea in 1994. President Obama will hope Carter – on a mission to bring back a jailed American – does not stray into talks about North Korea's nuclear program.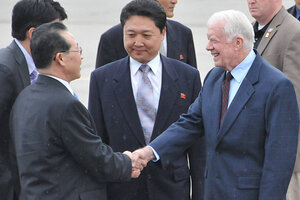 Newscom
Jimmy Carter's arrival in North Korea Wednesday on a mercy mission to free a jailed American citizen has raised speculation about whether the former president's foray might ease Pyongyang's tense relations with the world.
Some specialists see an aligning of forces for a return to the stalled talks about North Korea's nuclear program, noting that China's chief negotiator in the international six-party talks is currently visiting the Koreas.
But some North Korea experts caution that it is worthwhile to remember what happened after former President Bill Clinton completed a similar humanitarian mission a year ago: not much.
Similarly hopeful expectations accompanied Mr. Clinton's success at winning the release of two jailed US journalists in August 2009. But tensions between the two Koreas have since rebounded to new highs after the sinking by torpedo of a South Korean patrol ship in March.
---