Obama expands North Korea sanctions, striking at illicit enterprises
President Obama signed an executive order Monday that adds to the list of North Korea sanctions. This one targets North Korean entities involved in activities such as drug trafficking and arms sales.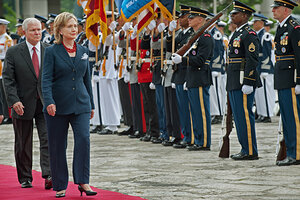 Paul J. Richards/AP/File
The Obama administration on Monday slapped new sanctions on North Korea in an effort to clamp down on the varied illicit activities that keep the pariah state afloat.
President Obama signed an executive order that adds activities such as arms sales, money laundering, narcotics trafficking, and the procurement of luxury goods to the list of areas the US will target in its global efforts to pressure the North Korean regime. A previous executive order signed by President George W. Bush in 2005 provides for actions against North Korean entities and individuals involved in the import or export of weapons of mass destruction.
"We have seen that the world reacts to this kind of thing very, very powerfully," said Stuart Levey, undersecretary for terrorism and financial intelligence, in announcing the new measures at the Treasury Department. "There's a knowledge out there that North Korea engages in illicit activity, and this [action] highlights that knowledge."
In addition to announcing the new executive order, Treasury and the State Department jointly announced the designations of five North Korean entities and three individuals for sanctions under the existing executive order targeting the sales and procurement of weapons of mass destruction.
---