With Sudan at a crossroads, can US help it avoid another Darfur?
Sudan is set to hold a referendum in 100 days on whether to split in two. With tensions rising and the Sudan government hedging, the US is stepping up its involvement.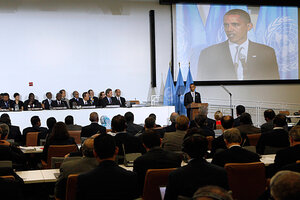 Chip East/Reuters
With Sudan in some estimations moving closer to renewed civil war, the international community is rallying behind a referendum process that will decide whether the northern African country is split in two.
The concerns about Sudan have led to a flurry of initiatives from global powers and the international human-rights community – including a high-level meeting at the United Nations Friday. President Obama attended the meeting, demonstrating the importance the US and other powers give to the upcoming referendum.
But the referendum in Sudan's oil-rich south is now just 100 days away – a short time, many experts say, to set up and ensure a credible voting process. And with the government in Khartoum rumbling with misgivings about the referendum and the peace settlement that established it, some experts are warning that Sudan could plunge into the kind of fighting that traumatized the south and the western region of Darfur earlier this decade.
"There could not be a more critical time in the life of Sudan and in the effort to ensure that these referenda go off on time and peacefully," says Samantha Power, Mr. Obama's director for multinational affairs in the National Security Council.
---