Palestinians consider Mideast talks trump card: declaring statehood
Israeli President Benjamin Netanyahu offer to extend the moratorium on settlement construction – but only if the Palestinians recognize Israel as a Jewish state. The Palestinians are mulling counteroffers.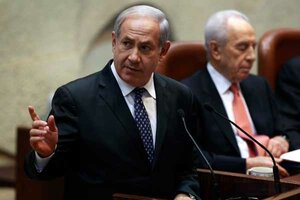 Baz Ratner/Reuters
Could the Palestinians get the attention of the Israelis – and the international community's support – by leapfrogging negotiations and simply declaring a state?
That is one option Palestinian leaders are contemplating as they mull over how to respond to Israeli Prime Minister Benjamin Netanyahu's latest proposal for keeping the Obama administration's iteration of peace talks going: Israel would agree to extend a partial moratorium on settlement construction for 60 days in exchange for the Palestinians' recognition of Israel as a Jewish state.
Mr. Netanyahu's proposal is both a response to US pressure to keep the fledgling talks going and a way of putting a high price tag on meeting the Palestinians' demand that the settlement moratorium that expired last month be renewed. Recognition of Israel as a Jewish state is tied up with the so-called "right of return" to Israel of Palestinian refugees from the 1948 partition of Palestine and the 1967 Arab-Israeli war.
But Netanyahu's proposal also has the effect of lobbing the peace talks ball back into the Palestinian court – and preparing the way for Palestinians to be perceived as the guilty party should the talks launched Sept. 3 in Washington die an early death.
---