A new Israeli settlement freeze? What's behind Netanyahu's offer.
Israeli Prime Minister Benjamin Netanyahu offered a new Israeli settlement freeze, as ally Obama eagerly seeks progress toward peace before US elections next month.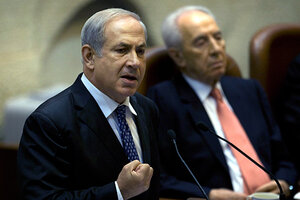 Sebastian Scheiner/AP
Israeli Prime Minister Benjamin Netanyahu revived a previous offer Monday, saying he would support a new settlement freeze if Palestinians would recognize Israel as a Jewish state.
The offer is consistent with a demand Mr. Netanyahu made when he first endorsed a Palestinian state a year ago. But Israeli analysts and former diplomats disagree as to what the prime minister, who acknowledged that the offer had already been turned down in private negotiations with Palestinians, sought to achieve by raising the issue in parliament's opening day of winter session Monday.
Some see it as an effort to deflect Palestinian portrayals of Israel as the obstructionist party, especially with Netanyahu's ally President Obama eager to see the peace talks restarted before November elections. The prime minister may also be trying to reassure some of his constituents, who have felt he's betrayed them in the face of Palestinian demands.
But Netanyahu's decision to raise recognition again now instead of leaving it for the final stages of talks has stoked fresh uncertainty about his sincerity in negotiating a two-state solution.
"[Netanyahu] knows it's a non-starter,'' says Yossi Alpher, a former peace process adviser to the Israeli government and the co-editor of the opinion forum Bitterlemons.org. "[The Palestinians] are prepared to end the conflict, but for them to accept Israel as a Jewish state is for them to negate their whole narrative.''
What Palestinian recognition would mean
---