NATO backs Taliban talks: Sign of a shift in Afghanistan war?
NATO said Thursday that it is allowing Taliban leaders to travel to Kabul for talks with the government, suggesting that the West might be considering new options in the Afghanistan war.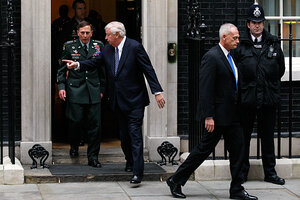 Sang Tan/AP
NATO's confirmation that its forces are facilitating talks between Taliban leaders and the government of Afghan President Hamid Karzai is a sign that the Afghanistan balance could be shifting from warfare to settlement – and the eventual withdrawal of Western combat forces.
With President Obama's surge of US forces in Afghanistan complete, this was supposed to be the time for breaking the insurgency's momentum to create more favorable conditions for peace negotiations.
Though those conditions have clearly not yet arrived, NATO decided to guarantee safe passage to senior Taliban leaders taking part in the talks – though NATO is not taking part in the talks itself.
It is an indication that the surge has not progressed as planned, forcing the US and its allies to open the door wider to other options, says Lawrence Korb, a senior fellow at the Center for American Progress in Washington and a former Pentagon official.
---