Is US-Russia thaw threatened by new START delay?
A key senator said Tuesday that he does not want to ratify a new START, the US-Russia nuclear arms pact, this year. The Obama administration says a delay could harm fragile relations with Russia.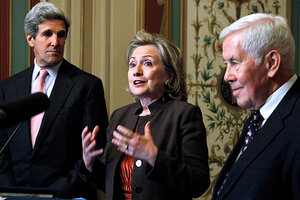 Manuel Balce Ceneta/AP
Trouble for a new nuclear weapons treaty could be bad news for President Obama's "reset" of relations with Russia.
Mr. Obama counts improved relations with Russia during his time in office – what is now called the "reset" – among the top foreign policy accomplishments of his presidency. And a crucial piece of that is the new Strategic Arms Reduction Treaty (START) the president concluded with Russian President Dmitry Medvedev in April.
But only days after Obama declared Senate ratification of the new START his top foreign policy priority for the lame-duck session of Congress, a crucial senator is throwing a wrench into plans.
Sen. John Kyl (R) of Arizona on Tuesday said he opposes any rush to ratification and would favor letting the new Senate take up the treaty next year. Senator Kyl, who has already got commitments from Obama for modernization of the US nuclear arsenal and weapons labs, the new START is too complex to be rushed through.
---