Obama in Europe: Back among friends or another 'shellacking' ahead?
A rough trip to Asia behind him, Obama is heading to Europe, where his popularity is still high. But economic policy disputes with the Continent's leaders may make for a cool reception.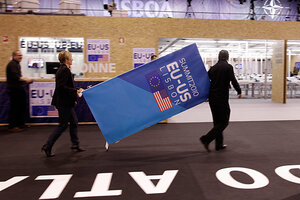 Virginia Mayo/AP
After a rough trip to Asia directly following his "shellacking" in the midterm elections, President Obama may think more comforting arms await him when he heads Friday to Western Europe, where adoring throngs greeted him not so long ago.
But with some European leaders bristling at the president's call for measures to rebalance trade accounts – in other words, better conditions for US exports – and with others still smarting over his snubbing of a traditional US-European Union summit earlier this year, Mr. Obama may have another thing coming.
"Obama is still wildly popular with the European public, he'd be elected chancellor of Germany if he ever ran for office here, but it's a very different story at the government and leadership levels," says John Hulsman, a US foreign policy expert and international relations consultant in Berlin.
European leaders have watched, some wistful for days when Europe topped the US agenda, as Obama has shifted the focus of American foreign policy eastward to China and the Indian Ocean. But they have not remained quiet as cracks appeared in what was to be a unified approach to the global economic crisis. Germany and Britain under Prime Minister David Cameron reject Obama's preference for spending to stimulate the economy, the German finance minister recently going so far as to label US economic intervention "clueless."
---