US to federal workers: If you read WikiLeaks, you're breaking the law
In the view of the US government, many of the WikiLeaks documents are still classified, and reading classified documents without clearance is illegal. Critics say the warning is censorship.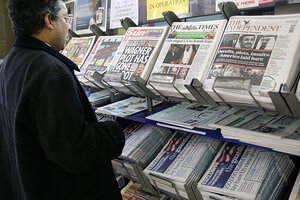 Sang Tan/AP
Imagine you're a soldier in Iraq seeking to keep up with world events, so you forgo the TMZs of the cyberworld in favor of real news on a site like CBS or CNN or Fox. You click on a story about the WikiLeaks release of thousands of State Department cables – and up pops a government-placed box informing you that if you proceed to the story you will be breaking the law.
Huh? Welcome to one of the more bewildering tangents of the WikiLeaks information dump: the clash between the principle of a censorship-free Internet and the government's need to protect certain information – and the sources of that information.
The federal government reasons that, published or not, the cables released by WikiLeaks are still classified documents. So it is warning employees from the Library of Congress to its far-flung foot soldiers not to access WikiLeaks and the mirror sites it and other information activists are feverishly setting up.
In some cases the warnings have extended even to accessing media reports about the disclosures. Accessing classified information without clearance is tantamount to breaking the law, the warnings go, and could damage one's government career or even end it.
---