US treatment of Liu Xiaobo's Nobel Peace Prize angers China
China is leading a 19-nation boycott of Friday's ceremony awarding jailed Chinese dissident Liu Xiaobo the Nobel Peace Prize. It says calls to free Liu amount to meddling in its internal affairs.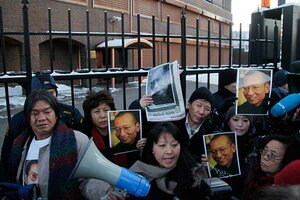 John McConnico/AP
As China stokes the controversy swirling around Friday's Nobel Peace Prize ceremony honoring Chinese dissident Liu Xiaobo, last year's recipient is remaining coy about how he intends to mark the day.
President Barack Obama, the 2009 Nobel Peace Prize laureate, is so far not revealing his intentions in terms of acknowledging the official awarding of the Nobel to the pro-democracy advocate – who remains in prison and thus will not be able to accept his prize in person.
White House officials have noted that the president issued a statement congratulating Mr. Liu when the award was announced in October. And they have hinted that Mr. Obama will mark the award's official bestowal in some fashion.
The US will be represented at the awards ceremony in Oslo by Barry White, the US ambassador to Norway. Liu will be represented by an empty chair.
At one point last month the White House suggested it would like House Speaker Nancy Pelosi to represent the US at the ceremony, but a full agenda in Congress's lame-duck session and Speaker Pelosi's desire to guide the final action of the current House appears to have nixed that plan.
---