How China has put Liu Xiaobo's Nobel Peace Prize in the limelight
Chinese dissident Liu Xiaobo and his family are not expected to be allowed to attend the Nobel Peace Prize ceremony. But China's opposition to the award has brought even more attention to it, some say.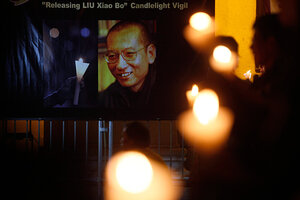 Kin Cheung/AP
Beijing's angry reaction to imprisoned Chinese dissident Liu Xiaobo's Nobel Peace Prize was seemingly intended to downplay this year's award, but instead it's adding new importance to Mr. Liu's upcoming Nobel ceremony in Oslo.
If, as is now expected, Liu nor his family attend the Dec. 10 event, says Norwegian Nobel Institute Executive Director Geir Lundestad, it will be the first time that no one is present to collect the prize since it went to German pacifist Carl von Ossietzky 75 years ago, who wasn't allowed to leave his country. In other controversial cases, representatives picked up awards for the missing laureates.
"Everybody understands why he is not here," says Mr. Lundestad. "There is no negative significance at all, it only makes the message even stronger. It could turn out to be positive, unfortunately."
Many will see this year's ceremony as a gauge of China's influence in Europe, and whether countries here are willing to overlook human rights issues to secure better ties with Beijing. In recent weeks, China has discouraged many countries from sending representatives to the Nobel ceremony.
---