Nobel prize sparks Norway-China row, petitions for reform in Beijing
Norway faces a diplomatic backlash from China after the Nobel Peace Prize was awarded to jailed democracy activist Liu Xiaobo. The greater fallout may be within China itself.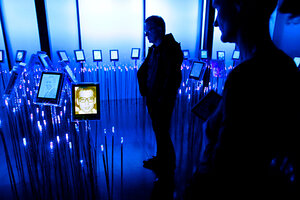 Sara Johannessen/Scanpix/Reuters
Norway has been hit with the first wave of diplomatic backlash after awarding the Nobel Peace Prize to jailed Chinese pro-democracy activist Liu Xiaobo.
China called off two high-level meetings in Beijing with Norway's fisheries minister this week. In addition, cancellations have been pouring in for four other scheduled Sino-Norwegian meetings.
But the award could actually provide a bigger backlash for China at home because it has generated a "game-changing" dynamic for reform, according to Sharon Hom, executive director for Human Rights in China, an international nongovernmental organization based in Hong Kong and New York.
Why China sees Norway as responsible for Nobel
China is upset that the Norwegian Nobel Committee gave the award to Mr. Liu, who was sentenced in December 2009 to 11 years in prison for "inciting subversion of state power." He was a leading author behind Charter 08, a political manifesto that calls for increased rule of law, greater respect for human rights, and an end to one-party rule in China.
---
Follow Stories Like This
Get the Monitor stories you care about delivered to your inbox.