Obama to Hosni Mubarak: Egypt protests must bring reform
President Obama says the Egypt protests must be turned into a moment for reform. Egypt president Hosni Mubarak vowed to form a new government. But the US and Egyptians will want more.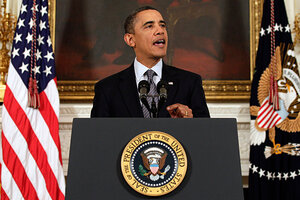 Carolyn Kaster/AP
As events in Egypt dominated world capitals and world markets Friday, the US was sending the government of President Hosni Mubarak two clear and stark messages: Get moving on reforms now if you want to survive, and whatever you do, do not react to your people's protests with a massive crackdown.
In remarks from the White House Friday night, President Obama said: "This moment of volatility has to be turned into a moment of promise."
The comments followed those of White House spokesman Robert Gibbs, who said at a press briefing earlier in the day: "We've reached a point where the grievances of the people have to be addressed. Have to. Must."
Beyond that, Mr. Gibbs said a review of more than $1 billion dollars in annual US aid to Egypt was under way, and he suggested that any government attempt to meet the turmoil with massive repression would have grave consequences. "We will be reviewing our assistance posture based on events that occur in the coming days," he said.
Still, the White House was categorical that – despite the cries in Egyptian streets for Mubarak's ouster – the US still believes the Mubarak government has an "opportunity" to hold on by proceeding swiftly to economic, political, and social reforms.
---