Is post-revolutionary Egypt a land of opportunity for US investors?
Egyptian finance officials, in Washington to press the IMF and World Bank for debt relief, appeal to US political and business leaders to get off the sidelines and invest in the 'new' Egypt.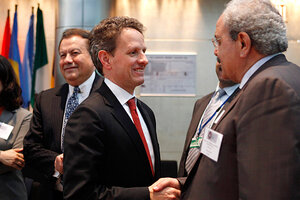 Jacquelyn Martin/AP
The short-term economic picture in Egypt and the rest of the Middle East may seem uncertain at best, with political instability, reforms, and even a war (Libya) shaking the region from Sana'a to Rabat.
But Egyptian economic officials in Washington this week are encouraging both the international institutional community and the private sector to look beyond the immediate challenges to the longer term opportunities they say a region in transition to democracy presents.
"Go ahead, wait and see, but I tell you, you are missing the opportunity!" says Samir Mohamed Radwan, Egypt's minister of finance, explaining how he responds to anyone expressing caution about Egypt's and the region's prospects.
IN PICTURES: Egyptian protests
For the less purely dollar-and-cents minded, Mr. Radwan also suggests that the public and private worlds should want to lend a hand to help the Arab Spring flourish. "Now we have a president on trial in the Middle East without anyone firing a bullet, so I say, wait for what?" he says. "You should support this democracy, is what I say."
---