Egypt revolution 2.0: Amid flagging support for strikes, protesters turn to politics
Many of the protesters' demands remain unmet. Egyptians disagree whether it's better to focus efforts on protests or politics.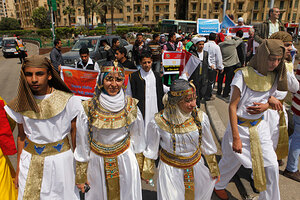 Amr Nabi/AP
As hundreds of people gathered Friday in central Cairo in the familiar tableau of chants and slogans demanding reform, dozens of others gathered indoors for the less exhilarating work of developing a media strategy for a new political party.
All agree on one thing: the revolution is not yet finished. But two months since the beginning of the revolution that toppled Egypt's president, ideas are diverging on how to continue the fight. Some of the young people who played a key part in the movement see reason to continue taking their demands to the street, while others find the battle now lies in political organization and mobilization ahead of upcoming elections.
RELATED: People-powered democratic revolts – do they last?
Whatever their strategy, the fight will be tough. Many of the protesters' demands have yet to be met, such as freeing all political prisoners and ending the emergency law that gives vast authority to Egypt's rulers and severely curtails civil rights. And this week, the interim cabinet approved a draft law that criminalizes some protests and strikes, with punishment of prison sentences or a fine of up to a half a million Egyptian pounds (about $84,000). It remains unclear when the military council ruling Egypt might adopt the law.
Sherif Abdul Azim was in the streets alongside millions of other Egyptians throughout the heady days of the revolution. With his beret and shaggy hair, he looks the part of a leftist revolutionary. Yet Friday, he was working on media development for the new Egyptian Social Democratic Party. Founders are using their own cash to set up a headquarters, build a website, hold seminars around the country, and build a presence in the country's 29 governorates.
---