In Egypt, a violent campaign to subvert the revolution
The Army joined with armed thugs yesterday to force protesters out of Cairo's Tahrir Square – one of many incidents lately that make Egyptians blame regime elements for trying to limit the scope of the revolution.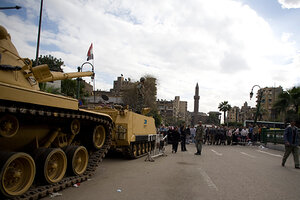 Grace Kassab/AP
Egyptians are growing increasingly wary of what they see as a growing attempt by remnants of former president Hosni Mubarak's regime to subvert their revolution by sowing chaos and violence in society.
They call it a counterrevolution, and they see it in attacks by thugs on peaceful protesters and in neighborhoods throughout Cairo and even in the sectarian strife that has recently flared up between Christians and Muslims. Egypt's new Prime Minister Essam Sharaf, in an interview on Egyptian television Wednesday night, warned of a systematic campaign to undermine security in Egypt.
They blame it on members of the state security service, wealthy businessmen, and members of Mubarak's ruling National Democratic Party, who do not want to see the revolution that robbed them of power succeed. It evokes the violence that came after Tunisia's revolution, where young men were said to be paid to attack people and property.
RELATED: Copt-Muslim clash in Cairo renews question: Who are the Copts?
---