At UN, Libya's new leaders seek support to thwart terrorist threat
Libya's interim government says capturing Qaddafi is a matter of security and stability not just for Libya, but for the region and beyond.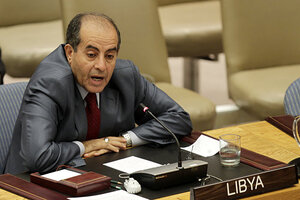 Seth Wenig/AP
Libya's interim government may be this year's darling of the international community, reaping praise from world leaders, including President Obama, at the United Nations' annual gathering in New York.
But Libya's new leaders say they are not getting the support of key African countries for their efforts to stabilize their country. Indeed, they worry that some African leaders in Zimbabwe, Algeria, and elsewhere still root for the deposed Muammar Qaddafi, who is on the run but still issuing defiant statements of resistance.
"Libya will need support from the international community to put pressure on those African countries who still support Qaddafi and benefit from his money," said Mahmoud Nacua, charge d'affaires at the Libyan embassy in London, in an interview Tuesday with Reuters. "The international community has a vital role to stop any sabotage from Qaddafi and his sons and his supporters."
---
Follow Stories Like This
Get the Monitor stories you care about delivered to your inbox.