Why Obama sees time as ripe for overture to Burma regime
By sending Secretary of State Hillary Clinton to Burma (Myanmar) next month, Obama seeks to encourage recent steps toward democratization. But China and his own image as a door-opener are also factors.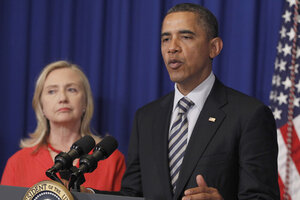 Charles Dharapak/AP
President Obama's decision to send Secretary of State Hillary Rodham Clinton to the southeast Asian country of Burma (Myanmar) next month reflects the US desire to encourage recent steps toward democratization by the Burmese regime.
Mrs. Clinton's visit – the first by a US secretary of State in more than 50 years – also suggests two other Obama goals. One is to nudge Burma to continue diversifying from its heavy reliance on China over decades of military rule.
Another is to signal, both to Americans and to the world, that a president who came into office proclaiming an open door to dialogue with America's adversaries is pursuing that policy.
But the focus is on supporting Burma's fledgling steps toward democracy, which include an initial shift this year to a civilian-led government and measures opening up an economy long controlled by the military.
Calling Clinton's visit "a substantial reward" to the regime, Notre Dame University Prof. George Lopez says the Obama administration is signaling recognition that "the flip side of sanctions designed to force policy change are incentives to reward concessions made and to stimulate more in the future."
Mr. Obama laid out a carrots-and-sticks policy toward Burma in 2009, renewing US economic sanctions designed to punish the regime for human and political rights violations while signaling an opportunity for improved relations if Burma were to undertake reforms.
---