The rise of an economic superpower: What does China want?
As an economic superpower, what does China want on the global stage?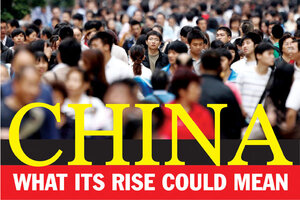 Reuters photo
It had been billed as a friendly exhibition game in basketball-crazy Beijing, between the Georgetown University Hoyas from Washington, D.C., and the Chinese Army's Bayi Rockets. But after some blatantly biased Chinese refereeing and unashamedly aggressive play by Bayi, it ended in a bench-clearing brawl, with Chinese fans in the Olympic stadium throwing chairs and bottles of water at the Americans.
Some foreigners in the crowd that hot night in August were tempted to see the melee as nothing less than a metaphor for China's role in the world today: contempt for the rules and fair play, crowned by a resort to brute strength in pursuit of narrow self-interest.
You certainly don't have to look far for examples of China doing things its own blunt way no matter how much Western sensibilities are offended.
Just in recent months, Chinese state firms were caught negotiating arms deals with Col. Muammar Qaddafi's besieged regime in defiance of a United Nations embargo, Beijing leaned heavily on South Africa not to give the Dalai Lama the visa he needed to attend Desmond Tutu's 80th birthday party, and Chinese diplomats vetoed a UN Security Council resolution condemning the deaths of nearly 3,000 civilians at the hands of Syrian troops.
And that's not to mention the Chinese government's habit at home of locking up lawyers, human rights activists, artists, even Nobel Peace Prize laureates for speaking their minds in ways that would be quite normal in most of the world.
---