The economic road ahead for China and Pakistan
The global economic superpower of China is symbolic in it's ambitious Karakoram Highway expansion project in Pakistan.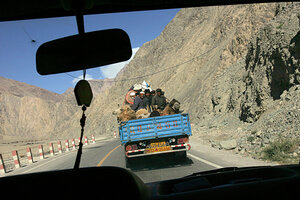 Elizabeth Dalziel/AP/File
Until last year, shopkeeper Sher Afzal sold Lay's potato chips and baked goods to Western backpackers visiting this idyllic Himalayan valley. Now that rising terrorism has squelched tourism and China's economic boom has brought development, he is selling Chinese instant noodles and packets of dried meat to a very different clientele.
"With the state of affairs, there's more business with the Chinese now," he says of the interest that China, the world's second-largest economy, now takes in Pakistan.
In the past four years, thousands of Chinese workers have descended on the Hunza Valley for an ambitious repair project on the legendary Karakoram Highway. An epic feat of engineering, the 800-mile, two-lane ribbon that wraps its way in hair-raising curves through passes as high as 15,000 feet connects western China to Islamabad, Pakistan, and thence to roads leading to the deepwater port at Gwadar.
The relationship is not new: The road was first built between 1959 and 1979 by the People's Liberation Army. But while Pakistan's relations with the West, particularly the United States, remain difficult, the highway – along with other major Chinese-built projects such as the port at Gwadar and Pakistan's main nuclear reactor at Chashma – is a symbol of the road ahead.
"It's part of a larger, overall infrastructure project, which is geared toward enhancing connectivity with Gwadar and the western regions of China," says Fazal Ur Rehman, director of the China Studies Center at the Institute for Strategic Studies in Islamabad.
---