Historic Myanmar trip for Hillary Clinton: Enough focus on human rights? (video)
Obama's 'constructive engagement' policy gets a test as Secretary of State Hillary Clinton visits Burma (Myanmar). Some critics say US is offering too much for too little progress, especially on human rights.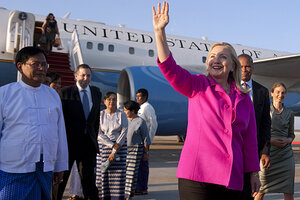 Saul Loeb/AP
Secretary of State Hillary Rodham Clinton steps into one of the world's most repressive countries Wednesday with her arrival in Burma (Myanmar) – the first secretary of State to trod Burmese soil since John Foster Dulles in 1955.
Her three-day trip will test not only the military junta's openness to political and economic reforms, but also the limits of the Obama administration's policy of "constructive engagement" and its ability to bring about change in America's adversaries.
Some international human rights organizations are warning the United States not to let Secretary Clinton's high-profile visit be used as a kind of US seal of approval of a regime that, they say, has offered only cosmetic reforms and that still commits gross human rights violations, in particular against ethnic minorities.
Some critics say President Obama, in sending Clinton to Myanmar, is offering too big a carrot for too little in return.
But others, in particular specialists in the role of foreign policy in democratic and human rights reforms, say the situation is ripe in South Asia for the United States to prod Myanmar down the road of political change.
---