An accelerating covert war with Iran: Could it spiral into military action?
The Stuxnet worm and other covert measures appear designed to slow Iran's progress toward a nuclear bomb. But US 'miscalculations' could raise the likelihood of a costly showdown, some experts warn.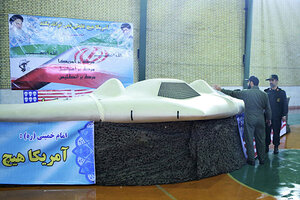 Sepah News.ir/Reuters/File
When a sophisticated American spy drone went missing a month ago and fell into the Iranian military's hands, what had been whispered speculation at the end of the Bush administration became an all-but-officially acknowledged conclusion: The United States, along with a few key allies, is involved in an accelerating covert war with Iran.
It's an example of what some are calling "21st-century warfare," given the deployment of cyberworms instead of soldiers and mysterious explosions at key military installations instead of aerial bombardment.
The overarching goal is to slow, if not reverse, Iran's apparent progress toward developing a nuclear bomb – something international diplomacy and a series of economic sanctions have not been able to accomplish. The measures also appear designed to put off the need for a military attack to stop Iran from joining the nuclear club.
The US, Israel, and Britain are thought to be involved in this unacknowledged war. While many actions go unclaimed, the intensification is occurring as the Obama administration signals a hardening stance toward Tehran.
An on again, off again war for 30 years
---