Has Obama's 'let's talk' approach worked with US adversaries? A report card.
One of Obama's objectives entering the White House was to show that dialogue could be more effective than confrontation with US adversaries. From Iran to Burma, here's how it's going.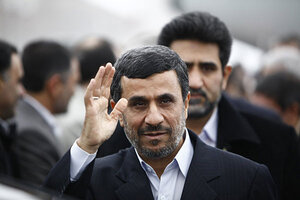 Tigran Mehrabyan/Reuters
When Barack Obama entered the White House in January 2009 on the heels of George W. Bush, one of his objectives was to demonstrate that engaging in a dialogue with America's adversaries could be more effective than confrontation in addressing such prickly foreign policy concerns as nuclear proliferation and authoritarian regimes.
Some three years later, the media salvos President Obama launched this week against Venezuelan strong man Hugo Chavez were a small but striking reminder that the "talking with the enemy" approach has had few successes.
Here's how Mr. Obama's "let's talk, not fight" policy has fared with five countries at the top of America's adversaries list:
Iran
The administration insists it is still on the dual-track approach of dialogue and pressure when it comes to perhaps America's No. 1 adversary, Iran. But the halting stabs at dialogue the US made with Iran in Obama's first year have ceased, and these days key officials seem loath to utter the D word as they discuss toughened financial sanctions, oil-products embargoes, and other punitive measures aimed at halting Iran's nuclear program.
Iran's recent capture of an American reconnaissance drone that was operating over its territory laid bare a covert war between hardening adversaries that seems to leave little opportunity for dialogue. And the domestic political environments in both Iran and the US don't favor any amicable gestures, either.
---