Myanmar breakthrough: Does it validate Obama policy of engaging adversaries?
The US announced it was restoring diplomatic ties with Myanmar, and some US officials credited Obama's policy of engagement with helping to bring one of the world's pariah states in from the cold.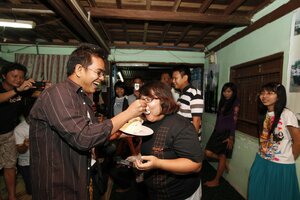 Soe Zeya Tun/Reuters
The United States restored full diplomatic relations with Myanmar Friday, saying it was making good on a commitment to "meet action with action" as the long-isolated Southeast Asian country has moved rapidly on political and economic reforms.
Just hours after Myanmar's new civilian government announced the release of hundreds of political prisoners, Secretary of State Hillary Rodham Clinton said the US would exchange ambassadors with Myanmar, also known as Burma, for the first time in two decades.
The US announcement also followed Myanmar's declaration of a cease-fire with ethnic Karen rebels, a sign of the new government's recognition of Myanmar's ethnic diversity. According to US diplomats, ethnic violence and repression may be the most difficult challenge the country faces.
The focus Friday was on Myanmar and the role US diplomacy has played in bringing one of the world's pariah states in from the cold. But some administration officials were keen to depict the breakthrough as a success for President Obama's policy of engaging America's adversaries.
Mr. Obama came into office "committed to trying to engage in many parts of the world where we had frozen relations," says a senior State Department official. "In this case … we're seeing progress. In other cases," the official adds, the US effort was "not reciprocated."
---