Why Ahmadinejad is eager to show off new Iran nuclear facilities
President Mahmoud Ahmadinejad could boost his sagging political standing at home by wrapping himself in the mantle of the Iran nuclear program, which is popular with Iranians. He is set to unveil new facilities Wednesday.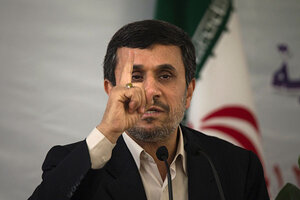 Morteza Nikoubazl/Reuters
Iran's President Mahmoud Ahmadinejad plans to unveil several new nuclear facilities Wednesday during ceremonies aimed at boosting his sagging domestic political fortunes, but the move is likely to further intensify international tensions over Iran's nuclear program.
The facilities could include a line of uranium-enriching centrifuges at the new underground Fardo nuclear site, according to international nuclear experts.
New facilities that suggest Iran is accelerating the rate at which it is building up its stockpile of enriched uranium could increase tensions in a number of ways, experts say. World powers hoping to restart talks with Iran over its nuclear program may conclude that Iran has opted for enrichment over negotiations, and Israel could conclude that its window for attacking Iran before it has stockpiled enough fuel to build a bomb is closing faster than it
thought.
The Fardo plant, built deep inside a mountain near the city of Qom, is of concern to Israeli officials who warn that Iran's nuclear program could be nearing a point of "invulnerability." Such expressions of concern have led to speculation that Israel is preparing to strike Iran's nuclear facilities.
If Wednesday's ceremonies include a formal ribbon-cutting at the Fardo facility, it would come just as Iran and Israel are waging a heated retaliatory battle over recent small-scale bombings aimed at Israeli diplomatic personnel. Israel accuses Iran of carrying out the bombings, in India, Georgia, and Wednesday in Bangkok. Iran countercharges that Israel itself carried out the ultimately failed attacks, so as to have something to pin on Iran.
The Iranian accusation strains credulity even further after Wednesday's Bangkok bombing, for which two Iranian suspects were detained – one after he accidentally blew off his own legs with a hand grenade.
---