Afghanistan massacre: How rising tensions could cost Obama politically
The tragic killing of the villagers is likely to complicate US efforts to negotiate future bilateral relations with Afghanistan. It's also a potential stain on Obama's foreign policy record.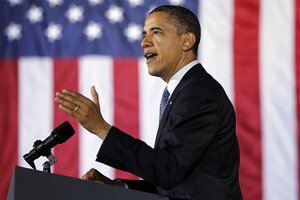 Pablo Martinez Monsivais/AP
The mass slaying of Afghan villagers by a US Army sergeant would be a tragic stain at any time, but it hits the Obama administration at a particularly bad moment.
Not only is the US in delicate negotiations with the Afghan government over the scope of future bilateral relations, but the horrific events risk souring Americans generally on what has been a solid plus for President Obama's reelection bid: foreign policy and national security.
Sunday's shooting spree, in which 16 Afghan civilians – mostly women and children – were hunted down and killed in their homes, is only the latest in a string of incidents involving US soldiers in Afghanistan. The killings, the recent Quran burnings by US soldiers destroying what they thought were subversive materials, and previously the videotaping of US soldiers urinating on the bodies of dead Taliban fighters, are straining relations just as the US is negotiating a strategic partnership agreement with Afghanistan for a continuing US role after the hand-off of all combat duties.
The Obama administration is trying to complete the planning for the full turnover of responsibilities from NATO to Afghan forces, which is to take place by the end of 2014.
The massacre of the villagers seems likely to place further strain on relations between the US and Afghan militaries, and thus on the crux of Mr. Obama's strategy for a US military drawdown: the training of, and joint operations with, Afghan soldiers, so they can take over combat duties from their American colleagues.
---