US to North Korea: Launch that missile, and you lose the food aid
The US will not supply food aid to a hunger-stricken North Korea if Pyongyang persists in its plan to launch a long-range missile next month, the State Department warned late Friday.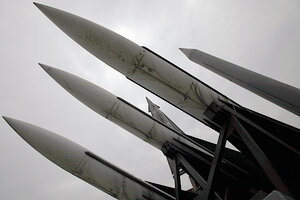 Lee Jae-Won/Reuters
This story was updated at 4:25 p.m. EDT.
The United States would call off a deal to send tons of food aid to hunger-stricken North Korea if the government in Pyongyang persists in a surprise plan to launch a long-range rocket next month, the State Department said Friday afternoon.
Responding to North Korea's announcement that it intends to launch a satellite on the back of a long-range missile sometime in mid-April, State Department spokeswoman Victoria Nuland told reporters late Friday that the US has informed the North that proceeding with the launch would void an agreement reached just two weeks ago to send 240,000 tons of food aid to the impoverished country.
"We did warn them that we considered that a satellite launch of this kind would be an abrogation of that agreement," Ms. Nuland said.
Earlier Friday the US had issued a statement criticizing the North's plans, though without any mention of the food-aid agreement. The US is hoping Pyongyang can be persuaded to reverse its "highly provocative" plans so that a deal – under which the US will deliver the food aid as the North stops uranium enrichment and opens nuclear facilities to inspection – can proceed.
The US has called on its partners in the region and Pyongyang's allies, like China, to pressure the North Korean government.
"We all need to encourage them to change course," Nuland said.
North Korea's missile-launch plan, which it says is intended to mark the centenary of deceased "Great Leader" Kim Il-sung's birth, not only puts into question the food aid deal. It also dashes hopes that the North's new young leader, Kim Jung-un, might usher in a new era in which an isolated Pyongyang could be persuaded to negotiate away its nuclear program and reduce tensions on the volatile Korean Peninsula.
In its announcement, the North said it would launch sometime between April 12-16 a satellite "for space development and peaceful use" – a claim it has made in the past when it conducted long-range missile tests. New this time, however, was a pledge to proceed with "maximum transparency" and to direct the launch so it "would not have any impact on neighboring countries."
---