Dogwood diplomacy: US gift of trees to Japan is cherry on top of Okinawa deal (+video)
A century after Japan presented the US with a gift of 3,000 cherry trees, the US is reciprocating with 3,000 specially bred dogwoods. But the deal to nearly halve the number of Marines on Okinawa may be even sweeter.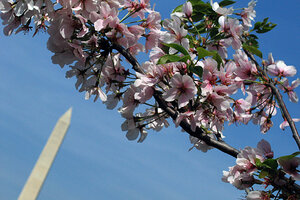 Sue Ogrocki/AP
US and Japanese leaders have come and gone, as has a horrific world war that interrupted the two countries' relations, but for 100 years the flowering cherry trees of Washington's tidal basin have stood – and blossomed every spring – as a testament to US-Japan friendship.
Now, a century after Japan presented the people of the United States with 3,000 cherry trees, the US is reciprocating by presenting Japan with 3,000 dogwood trees to be planted in a Tokyo park.
The gift of the dogwoods, which were specially developed to thrive in Japan, was announced by Secretary of State Hillary Rodham Clinton at a dinner she hosted Monday night for Japanese Prime Minister Yoshihiko Noda at the National Geographic Society in Washington. [Editor's note: The original version of this paragraph incorrectly stated who announced the gift and hosted the dinner.]
"We hope that, as a gesture, it will be something that our children and our children's children, both in the United States and Japan, will have the opportunity to enjoy and treasure, just as we have had the opportunity to treasure the cherry trees," Assistant Secretary of State for Asia Kurt Campbell said in Washington last week.
The dogwood diplomacy might be the highlight of Mr. Noda's trip to Washington,which included the first visit by a Japanese leader to the White House in three years. (Japan, passing through a period of higher than normal political turmoil, has had four prime ministers during President Obama's time in office.) But flowering trees are not all the two leaders are celebrating.
Both are welcoming the agreement reached last week to reduce by about 9,000, or almost half, the number of US Marines stationed on the Japanese island of Okinawa. The military presence has been a source of tension in Okinawa and in US-Japan relations for years.
---