Is lull in US-Iran tensions just calm before the storm? Talks will tell.
A better-than-expected first round of talks on Iran's nuclear program is the key reason for the lull. But some experts say any optimism may be just wishful thinking, and a lot can go wrong with Round 2.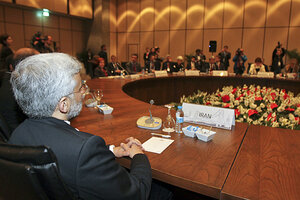 Tolga Adanali/AP
Strong assumptions in March that airstrikes on Iran's nuclear installations were in the cards for as early as this spring have given way to a sense that military intervention, either by Israel or the United States, is increasingly unlikely any time this year.
But this could just be the calm before the storm, according to some nuclear experts, who point out that everything may still ride on the outcome of international talks with Iran set for later this month.
The current lull in bellicose rumblings is largely the result of the initial meeting of international powers and Iran in Istanbul last month, which was judged by virtually all sides involved as having gone better than anyone anticipated.
European and Obama administration officials say Iran arrived at those talks ready to discuss its nuclear program – which was not the case when the same powers met with Iran the last time, in January 2011. At the same time, Iranian officials, including some influential clerics, have emphasized that the talks offer the chance of reaching a satisfactory resolution for all sides.
There are a number of key factors that explain why the Istanbul talks between Iran and the five permanent members of the United Nations Security Council – the US, China, Russia, Britain, France – plus Germany went off better than many expected and calmed March's war drums, experts say:
---