Is State Dept. hacking Al Qaeda? Not quite, but propaganda war is fierce.
Despite early reports, a State Department program to shoot down Al Qaeda propaganda online is not a hack. But the efforts are having an impact, Secretary Clinton says.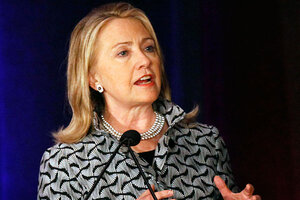 Kathleen Flynn/The Tampa Bay Times/AP
Hellfire-missile-carrying drones aren't the only thing Al Qaeda operatives in Yemen are worrying about these days. Add to the list the US State Department's new command center devoted to countering the terrorist group's propaganda on the Internet.
Even though what it is doing definitely does not qualify as a "cyberattack," the State Department has for a year and a half now tried to counter Al Qaeda's affiliate in the Arabian Peninsula by rhetorically shooting down the group's propaganda when it pops up on Yemeni tribal forum websites, experts who monitor the terrorist group's web operations say.
Earlier this month, for instance, Al Qaeda's affiliate in Yemen began an advertising campaign on key tribal web sites "bragging about killing Americans and trying to recruit new supporters," Secretary of State Hillary Clinton told a room full of military brass in a speech to the Pentagon's Special Operations Command in Tampa.
"Within 48 hours, our team plastered the same sites with altered versions of the ads that showed the toll Al Qaeda attacks have taken on the Yemeni people," she said Wednesday. "We can tell that our efforts are starting to have an impact, because we monitor the extremists venting their frustration and asking their supporters not to believe everything they read on the Internet."
---