Yemen vows to defy Al Qaeda's intimidation campaign
(Read article summary)
As Yemen celebrated a national holiday with a parade in Sanaa today, President Hadi said that recent attacks, including a bombing yesterday that killed more than 90 people, would not derail his government's campaign against terrorism.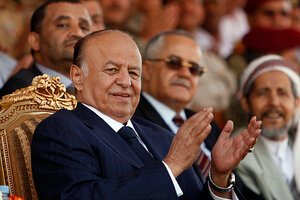 Khaled Abdullah/Reuters
• A daily summary of global reports on security issues.
The day after more than 90 Yemeni soldiers were killed in a bombing during a rehearsal for a holiday parade, the real event was completed safely, something President Abd Rabbu Mansour Hadi portrayed as a show of defiance against terrorism.
Both Al Qaeda in the Arabian Peninsula (AQAP), a regional Al Qaeda affiliate, and a local offshoot, Ansar al-Sharia, claimed responsibility for yesterday's attack.
"The war on terrorism will continue until it is uprooted and annihilated completely, regardless of the sacrifices," Mr. Hadi said, according to Reuters.
"We are sad for our comrades, but al Qaeda will not scare us," soldier Khaled al-Ansi, standing on a street corner in the capital today, told Reuters. "We will confront it and defeat it."
The parade marked National Day, which celebrates the unification of north and south Yemen in 1990. The streets of Sanaa, the capital, were mostly empty, aside from the parade participants and dozens of policemen, partly because the day is a national holiday and partly because of fear of a repeat attack, Reuters reports. Only military cadets, not troops, took part in the parade today as a "security precaution."
A Yemeni soldier participating in the rehearsal carried out the bombing with explosives hidden under his clothing, Associated Press reports. In addition to killing more than 90, he wounded at least 200 others in the vicinity.
---