Ousting Syria's Assad: Can UN get Russia on board?
UN envoy on Syria Kofi Annan unveiled a new plan to get all five permanent Security Council members to back the ouster of Bashar al-Assad. Russia has begun to hint that it may consider it.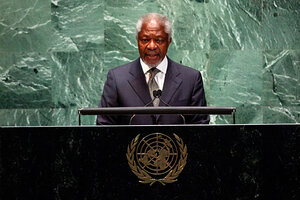 Allison Joyce/Reuters
Getting Russia to throw in the towel on Syrian President Bashar al-Assad has been the key to halting Syria's violence and avoiding a costly and unpredictable civil war ever since Syria descended into conflict more than 15 months ago, many regional experts say.
On Thursday the United Nations envoy on Syria and former Secretary General Kofi Annan unveiled to the UN Security Council a proposal to overcome the stumbling block of Russian support for President Assad by putting all five permanent Security Council members at the head of a plan to replace an exiled Assad with newly elected leaders and a new Syrian constitution.
The United States, the United Kingdom, and France, which have favored Assad's ouster, and Russia and China, which have not, would finally be on the same page on Syria at the head of a "contact group" of these world powers and regional countries.
But Russia's willingness to go along with Mr. Annan's plan, analysts say, depends on whether or not it believes that its interests in Syria, its last toehold in the Middle East, can be preserved despite Assad's departure.
---