UN head says Syria monitors fired on near reported new massacre site
UN Secretary-General Ban Ki-moon told UN representatives in New York about the alleged new atrocity in Syria and UN monitors coming under fire trying to reach the area.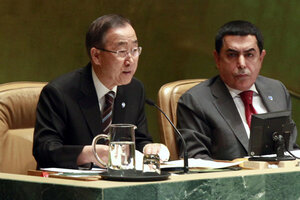 Allison Joyce/REUTERS
U.N. monitors seeking to reach the site of a new reported massacre of Syrian villagers by forces loyal to President Bashar al-Assad were shot at with small arms, U.N. Secretary-General Ban Ki-moon said on Thursday.
Ban, speaking at the start of a special U.N. General Assembly session on the Syrian crisis, condemned the reported massacre at Mazraat al-Qubeir and called again on Assad to immediately implement international mediator Kofi Annan's six-point peace plan.
"Today's news reports of another massacre ... are shocking and sickening," he told the 193-nation assembly. "A village apparently surrounded by Syrian forces. The bodies of innocent civilians lying where they were, shot. Some allegedly burned or slashed with knives."
"We condemn this unspeakable barbarity and renew our determination to bring those responsible to account," he said.
Ban said U.N. monitors were initially denied access to the site. "They are working now to get to the scene," he said. "And I just learned a few minutes ago that while trying to do so the U.N. monitors were shot at with small arms."
Ban was addressing the General Assembly ahead Annan's expected presentation to the U.N. Security Council on Thursday of a new proposal in a last-ditch effort to rescue his failing peace plan for Syria, where 15 months of violence have brought it to the brink of civil war.
Speaking to the General Assembly after Ban, Annan also condemned the new reported massacre and acknowledged that his peace plan was not working.
The Syrian opposition and Western and Gulf nations seeking the ouster of President Bashar al-Assad increasingly see Annan's six-point peace plan as doomed due to the Syrian government's determination to use military force to crush an increasingly militarized opposition.
---