Kofi Annan to propose role for Iran to revive Syria peace plan
(Read article summary)
Kofi Annan's peace plan for Syria has been deemed a failure by most. Today he will announce a proposal to revive it that includes bringing Iran into the diplomatic process.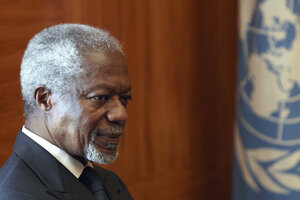 Denis Balibouse/REUTERS
• A daily summary of global reports on security issues.
Kofi Annan, the United Nation's mediator in Syria, will present a new proposal today for bringing international powers on board with his peace plan in hopes of avoiding both a full-out war and international powers acting beyond the auspices of the UN.
Western powers, fed up with Russian and Chinese intransigence on stronger action against the Syrian government, began threatening last week to take action outside the United Nations Security Council. US Ambassador to the UN Susan Rice suggested they would have no choice but to act without UN authorization.
Much of the international community, as well as Syrians on the ground, have been calling the peace plan a failure for weeks. Violence has continued, and one of the most horrific events of the conflict – the Houla massacre, in which 108 Syrians were killed – happened several weeks after the cease-fire went into effect. There were reports yesterday of another massacre, this time in the village of Qubair in Hama region, with 86 dead, according to The Wall Street Journal.
UN monitors have so far been unable to get into the village to verify reports of the massacre, according to Reuters.
---