US says Russian arms kill Syrians 'hourly' as West turns up pressure
US ratchets up its charges even as Russia says it's supplying only defensive weapons. Britain and France join a chorus that appears to be pressing Moscow to give up on Syria's Assad.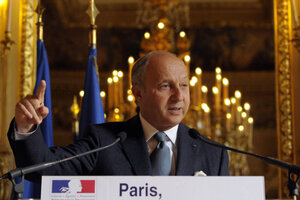 Philippe Wojazer/Reuters
Far from backing off claims that Russia is providing Bashar al-Assad the heavy weapons that are killing Syrian civilians, the United States ratcheted up the charges Wednesday – asserting that Russian-supplied weapons are killing Syrians "on an hourly basis."
Firing back, Russian Foreign Minister Sergei Lavrov said his country is only supplying Syria with defensive weapons – before he went on to snipe that it is in fact the US that is supplying the region with its deadliest weapons.
The latest US-Russia row over Syria, touched off by Secretary of State Hillary Rodham Clinton's warning Tuesday that a shipment of Russian attack helicopters is on its way to President Assad's armed forces, comes as the Syrian conflict deteriorates to a point where a growing number of diplomats and regional experts are deeming it a full-blown civil war.
With Syria going from bad to worse before a divided and ineffectual international community, the public dispute between the two world powers may be part of an effort to place blame – especially, in the case of the US, with the Obama administration coming under increasingly harsh criticism for "dithering."
But the administration's campaign to shine a condemnatory spotlight on Russia may also be part of a broader international effort to convince Russia that it is time for it to give up on Assad and throw its weight behind a political transition in Syria.
Even as Minister Lavrov and Secretary Clinton were trading charges, European powers led by France announced plans to seek a United Nations Security Council resolution that would bind Assad to accepting an existing peace plan for Syria (one that envisions his transition out of power) and would authorize sanctions and even use of international military force if he did not.
---