A day in the life of a UN observer in Syria
Gen. Robert Mood's job is to convince both sides in Syria's civil war that they're not interested in destroying the other.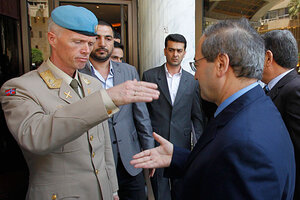 Khaled al-Hariri/Reuters
Deir Ez-Zour and Muhassan, Syria
As soon as Gen. Robert Mood stepped out of his white SUV he was mobbed by hundreds of men, women, and children.
The leader of the unarmed UN observer mission to Syria had come to the village of Muhassan, and the Sunni population was ready for him. They carried pictures of the "martyrs" killed here since the Syrian uprising began.
The children shouted, "Bashar is a donkey," and everyone crowded around the Norwegian general before he got down to business: A meeting with senior commanders of the Free Syrian Army, the loosely structured rebel army fighting to oust President Bashar al-Assad's Baath regime.
Muhassan is an FSA stronghold, but it is only a short drive from the provincial capital of Deir Ez-Zour near the Iraqi border, which remains in government hands. Between the two is the landscape of a Syrian civil war that has only deepened since Mood's mission began in April.
Rebels from the country's Sunni majority lust for revenge after massacres blamed on the government. Assad supporters, most from his minority Alawite sect, dismiss the rebels as foreign terrorists and call for tougher government reprisals. For many, the conflict has become an existential one: win, or risk being wiped out.
Gen. Mood's job is to convince both sides they're not interested in destroying the other. That proposition grows tougher by the moment. A conversation with the governor of Deir Ez-Zour, Samir el-Sheikh, illustrates how far apart both sides are. He was pleasant enough during the meeting earlier that day, but his tone was anything but conciliatory.
---