Obama will have hands full with prickly Putin at G20 summit
President Obama will sit down with Russian President Vladimir Putin on the sidelines of the G20 summit Monday. Putin has already shown that he's in no mood to kowtow to the US.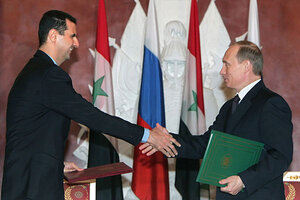 Sergei Chirikov/AP/File
US-Russia relations have deteriorated since the days of President Obama's "reset" with former Russian president Dmitry Medvedev – the most recent sign of a refreeze being last week's dust-up between Washington and Moscow over Russia's material support for Syrian strong man Bashar al-Assad.
But when Mr. Obama sits down Monday with the once-and-once-again Russian president, Vladimir Putin, on the sidelines of the G20 summit in Mexico, the US leader will be out to raise the conversation from a narrow focus on differences over Syria to a broader vision of the two world powers' common interests.
---