Iran nuclear talks: New plan barely masks failure
A 'tense' and 'tough' round of Iran nuclear talks ends in Moscow without a compromise, but fearing the fallout from a collapse in negotiations, world powers set a new round for July.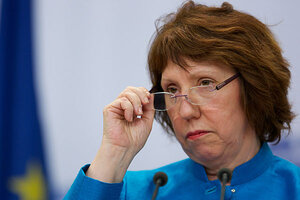 Alexander Zemlianichenko/AP
World powers, all too fearful of the ramifications of an outright collapse of talks with Iran on its nuclear program, on Tuesday decided to mark an inability to reach even a minimal agreement with Iran by scheduling another round of discussions for sometime next month.
But the case of diplomatically kicking the can down the road seemed unlikely to mask the bleak prospects for compromise with Iran on its nuclear ambitions – and that reality appears certain to agitate world oil markets, speed up the clock ticking on yet another military confrontation in the Middle East, and become a major factor in the US presidential campaign.
Russian officials who hosted this week's round of talks in Moscow and European Union chief diplomat Catherine Ashton, who led the negotiating from the world powers' side of the table, acknowledged at the end of what were called "tense" and "tough" discussions Tuesday that no compromise had been found between two sides that remained far apart.
Lady Ashton told reporters at the end of talks Tuesday that there is still a "very very long way to go" before Iran adequately addresses concerns about its nuclear program.
---