Iran nuclear talks get nitty-gritty in Moscow
On the opening day of Iran nuclear talks in Moscow, Iranian officials said they would 'consider' halting uranium enrichment to 20 percent in exchange for sanctions relief.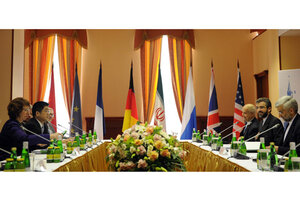 Kirill Kudryavtsev/AP
In Moscow today, Iran and world powers began to "engage" in detail about Iran's nuclear program for the first time, though fundamental differences could prove unbridgeable tomorrow. Such an impasse could jeopardize the diplomatic track and eventually risk another Middle East war.
The P5+1 group (the US, Russia, China, Britain, France, and Germany) want Iran to give up its most sensitive uranium enrichment work, close a deeply buried facility, and take steps that will forever keep it from acquiring a nuclear weapon.
Iran's response today to that proposal – first put forward during acrimonious talks in Baghdad last month – focused on recognition of its "right" to enrich uranium for peaceful purposes, and lifting crippling economic sanctions.
Neither point is part of the current P5+1 package, which will be gnawed over in final sessions in Moscow tomorrow.
---