Can the US and Russia save the UN cease-fire monitoring mission in Syria?
All signs in Syria seem to point to the demise of Kofi Annan's peace plan, including the UN cease-fire monitoring mission. But Annan is hoping the US and Russia can agree on a new contact group to rescue the plan.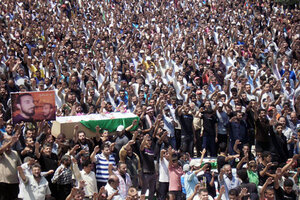 Shaam News Network/AP
Can Syria's cease-fire monitoring mission be saved?
With fighting between loyalist and rebel forces raging Tuesday in the suburbs of Damascus, Turkey and NATO taking up last week's shoot-down by Syria of a Turkish fighter jet, and UN monitors in Syria restricted to their quarters because conditions outside are too dangerous, any cease-fire and peace plan may already seem to be a fiction.
But former United Nations Secretary-General Kofi Annan, the UN's Syria envoy and author of the six-point Annan peace plan for stopping Syria's violence and ushering in a peaceful political transition, wants to know if the plan – which includes the UN monitoring mission – has any life left in it. So Mr. Annan has proposed holding a meeting of a proposed "contact group on Syria" in Geneva this Saturday.
Annan came up with the idea of a "contact group" primarily as a means of at least attempting to put the US and Russia on the same page on the Syria crisis, and to reduce both international divisions over Syria and the risk of those divisions deteriorating into a broader regional conflict. So far only the Western and Arab countries aligned on the goal of seeing Syrian President Bashar al-Assad leave power have managed to form a pro-opposition Friends of Syria group, but Russia has shunned the group and criticized it for actions that it says constitute interference in Syria's internal affairs.
---