Iran missile test: glimpse of what's ahead if nuclear talks fail
An Iran missile test Monday sent a clear warning to the US: Attack our nuclear facilities, and we'll target your military bases. It showed what US-Iran military gamesmanship might look like.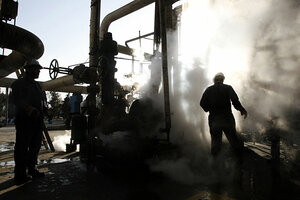 Vahid Salemi/AP/File
The United States and the European Union began imposing tough new sanctions on Iran's oil industry this month, with one goal in mind: inflict such economic pain that Iran's leaders get serious about an international deal to curtail the country's advancing nuclear program.
But with low-level officials from six world powers meeting with their Iranian counterparts in Istanbul Tuesday to gauge prospects for an agreement, Iran appeared to blast its answer into the skies Monday with the first of three days of ballistic missile drills.
The message: Launch airstrikes on our nuclear facilities, and rest assured we'll hit you back. And P.S.: Your sanctions may hurt us, but they will never cause us to fold.
The European Union on Sunday imposed a full embargo on imports of Iranian crude oil – last year, the EU purchased about 18 percent of Iran's oil exports – while the US has begun imposing measures against Iran's central bank and foreign financial institutions that continue to work with it.
Those sanctions follow a series of negotiations since April between Iran and the five permanent members of the United Nations Security Council – the US, Russia, China, France, and the United Kingdom – plus Germany, which have so far failed to reach agreement on curbing Iran's nuclear program.
---