Russia warns that Iran nuclear talks too slow to forestall conflict
Russian is uniquely placed to mediate between Iran and world powers, but analysts say Moscow's role is limited in part by a lack of compromise from Washington and Tehran.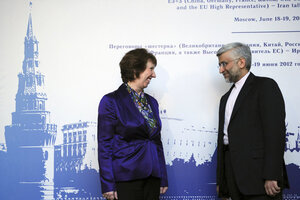 Kirill Kudryavtsev/REUTERS/File
Although progress was made at Iran nuclear talks in Moscow this week, Russian analysts are concerned that the pace may be too slow to forestall a military conflict. They also caution that Russia's ability to mediate, a role for which it is uniquely suited, is limited by the lack of compromise from both Washington and Tehran – and Moscow's own variable relations with the Islamic Republic.
Western diplomats are anonymously spinning the line that Iran doesn't really want a deal that would restrict its nuclear program. US Secretary of State Hillary Clinton suggested that some in Iran see an attack is the "best thing ... because that would unify [Iran], it would legitimize the regime."
The Iranian media, likewise, charged that plans of the P5+1 group (the US, Russia, China, Britain, France, and Germany) were "built on an axis of destruction," and that Israel sabotaged the talks. One Iranian lawmaker said failure was inevitable if "Westerners want to move under the instructions of the Zionist regime."
---