How Obama 'beat' Romney to Israel ... with a White House signing ceremony
The Romney and Obama campaigns both say their guy is the better friend of Israel, which may explain the White House signing of a security cooperation act just before Romney visits.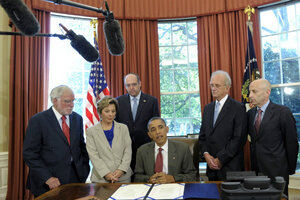 Susan Walsh/AP
In what might be called a preemptive strike, President Obama chose to hold a White House ceremony signing into law the US-Israel Enhanced Security Cooperation Act on Friday – two days before Republican challenger Mitt Romney visits the Jewish state.
Governor Romney will sit down with Prime Minister Benjamin Netanyahu and other Israeli leaders on Sunday, as part of his efforts to juxtapose his own high regard for Israel with what he says has been Mr. Obama's "shabby treatment" of America's closest Middle East ally.
Romney's objective: to cut into the whopping 78 percent of the Jewish vote that Mr. Obama won in 2008, while firming up his own luke-warm support among some evangelical Christians who have questioned his passion for Israel.
But by highlighting his administration's commitment to Israel's security only hours before Romney arrives in Jerusalem, Obama is signaling that he plans to cede no ground when it comes to Israel and the debate over how his administration has treated it.
What the battle suggests is that, among foreign policy issues, Israel is an emotion-laden topic that both campaigns believe they can turn to their advantage – and that means this week's tit-for-tat over Israel is likely to be only the beginning.
---