Obama-Netanyahu crisis meeting: Can leaders overcome lack of trust?
Obama hosted Netanyahu at the White House Monday to discuss how to resolve their differences over Iran and its nuclear program. But the lack of trust on both sides is deep.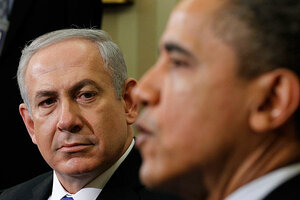 Pablo Martinez Monsivais/AP
The two men having lunch in the White House Monday – Barack Obama and Israeli Prime Minister Benjamin Netanyahu – have what the American president describes as a "functional" relationship.
It's not a very warm word, from a president whose style in any case is not to slap the back of or cozy up to the world leaders he deals with. Mr. Obama is not the type to spontaneously massage another leader's shoulders, as George W. Bush so memorably – and awkwardly – did with German Chancellor Angela Merkel.
But Obama's depiction masks only partially the tensions that course through the two leaders' relations. The root problem is a mutual lack of trust.
At this meeting the overriding issue is Iran, and the lack of trust goes something like this: Mr. Netanyahu does not trust Obama to abandon soon enough his emphasis on diplomatic measures (including toughened economic sanctions) as a means of compelling Iran to abandon progress towards a nuclear weapon; and Obama does not trust Netanyahu to give sanctions a chance to work, sparing the region what by most accounts would be a devastating military confrontation.
---