Mitt Romney in Jerusalem: Another city, another gaffe (or two)?
Mitt Romney traveled well-trod ground among US presidential candidates, calling Jerusalem the capital of Israel. But then he went another potential gaffe further with a comment on culture and prosperity.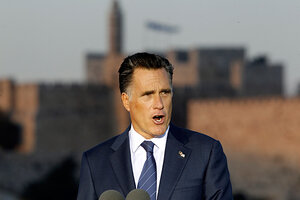 Charles Dharapak/AP
Mitt Romney wanted to use his trip to Israel to differentiate himself from President Obama, but instead he ended up sounding like Mr. Obama – the 2008 presidential candidate, that is.
Governor Romney caused a stir when he said in a speech Sunday that "it is a deeply moving experience to be in Jerusalem, the capital of Israel." That actually sounded milder than what then-Sen. Barack Obama said in June 2008, when he insisted that Jerusalem must "remain the capital of Israel, and it must remain undivided."
Romney's statement on Jerusalem was not well received by the Palestinians, but the candidate didn't stop there, adding a comment Monday about culture and prosperity that elicited even more condemnation.
Aside from angering the Palestinians, the problem with referring to Jerusalem as the capital of Israel is that, officially, the United States – in line with most of the international community – does not recognize Jerusalem as Israel's capital. Instead, it considers the city's status an issue to be negotiated between Israelis and Palestinians, who claim East Jerusalem – seized by Israel in the 1967 war – as their capital.
As a result, the US keeps its embassy in Tel Aviv.
---