US-Pakistan tensions: Time to stop pretending we are allies?
Pakistan's former ambassador to the US suggests that American attempts to steer Pakistani policy with billions of dollars are only delaying a needed divorce and reset of relations.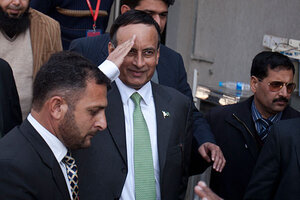 Anjum Naveed/AP/File
Barack Obama says Pakistan is the country that most often keeps him awake at night. Husain Haqqani says he has the answer to the president's insomnia.
The former Pakistani ambassador to Washington says the two countries should face the fact that their goals and priorities are not going to converge any time soon, and so should drop their stormy partnership to forge a "post-alliance future" based on reality over expectations and each country's self-interest.
"If in 65 years we haven't been able to find sufficient common ground to live together … maybe the best is to find friendship outside the marital bond," says Mr. Haqqani, who was Islamabad's ambassador to Washington until last November when he fell prey to a Pakistani political scandal.
Haqqani's conclusion – which he plans to explore in a book to be published next spring, entitled "Magnificent Delusions" – is a variation on the theme of those policy experts in both countries who say the two unhappy partners should "divorce" rather than prolong a dysfunctional marriage where neither side likes or trusts the other.
"I'm not for [the US] declaring Pakistan an enemy," Haqqani cautions, adding that his reason for proposing a "parting of ways" is so that "the important things can actually be addressed."
One example: Pakistan's nuclear arsenal, and ensuring that it remains secure. Without the fixation on "a broad alliance that doesn't exist," he says, "you can … focus on the specific problem."
---