Can Obama-Netanyahu rift over Iran be put on hold for the election?
Netanyahu, a day after saying the US had no 'moral right' to stop an Israeli attack on Iranian nuclear sites, sought to defuse the spat with Obama. But it's destined to linger through the election and potentially for long after.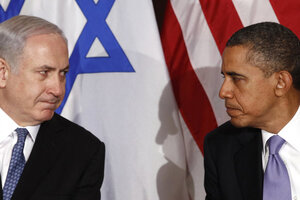 Kevin Lamarque/Reuters/File
Prime Minister Benjamin Netanyahu of Israel appeared Wednesday to try to dial down the very public discord between himself and President Obama on addressing Iran's nuclear program, saying that sometimes even "the best of friends" disagree.
But the modest olive branch is unlikely to close the gap between the two leaders over when and how to threaten Iran with military action to stop it from acquiring a nuclear weapon. It's a gap with what may be America's most politically sensitive ally that will dog Mr. Obama through the presidential campaign – and will color the two leaders' relations should Obama win reelection.
Obama and Mr. Netanyahu spoke by phone for an hour Tuesday night, hours after the Israeli premier said the US has no "moral right" to stop Israel from attacking Iran's nuclear sites if the US is unwilling to set clear "red lines" of its own for Iran. Netanyahu has been pressing the US both privately and publicly to set such "red lines," which, once crossed by Iran, would trigger US military action.
The UN nuclear watchdog, the International Atomic Energy Agency (IAEA), recently reported that Iran has stockpiled enough low-and medium-grade uranium to provide – if further purified to highly enriched uranium – enough fuel for up to six nuclear weapons.
---