US draws line in Syria: aligns with moderate rebels, labels others terrorists
On the verge of formally recognizing a rebel coalition as representing the Syrian people, the US designated the al-Nusra Front as a terrorist organization that is an arm of Al Qaeda in Iraq.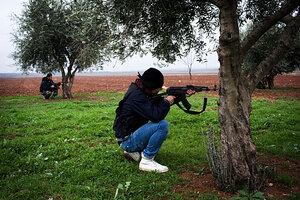 Manu Brabo/AP
Increasingly alarmed by the rise of extremists in a teetering Syria, the United States is taking a series of steps this week that it hopes will bolster the moderate political and militant forces battling the regime of President Bashar al-Assad.
The State Department on Tuesday designated a group considered to be Al Qaeda's chief affiliate in Syria as a terrorist organization, finding that Jabhat al-Nusra, or the al-Nusra Front, is an alias for Al Qaeda in Iraq. The group has carried out a rising number of attacks in Syria, and is seen to be growing in influence within the ranks of Syria's armed rebellion.
In addition, the United States is expected to formally recognize the recently constituted Syrian National Coalition as the legitimate representative of the Syrian people at a gathering Wednesday in Morocco of Syrian opposition political figures and international supporters of a democratic Syrian transition.
The steps come amid accelerating signs of President Assad's loosening grip on control of the country, a trend the US and other powers seeking Assad's departure are not unhappy to see – but one which is increasingly offset by the worrisome rise of Islamist extremists like the al-Nusra Front.
---