A Bill and Hill year: why Clintons are Americans' favorite politicians
A recent poll showed that Hillary and Bill Clinton are the most popular politicians in America. How did America's top political couple come to have such high-flying ratings?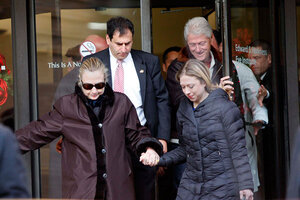 Joshua Lott/REUTERS
Though Secretary of State Hillary Rodham Clinton's return to work next week will be brief, given President Obama's nomination of John Kerry to replace her as secretary of State, it comes amid an aura of national popularity, respect, and even fascination.
An NBC News/Wall Street Journal poll in December found that Secretary Clinton and her husband, the former President Clinton, are America's two most popular politicians. At the same time, a Bloomberg poll found that 70 percent of Americans view Secretary Clinton favorably – an astounding number given the country's hyperpartisan divide.
What explains the high-flying ratings enjoyed by Bill and Hill, as Washington columnists prefer to call them?
Some pundits speculate that Secretary Clinton's "relegation" to the relatively noncontroversial global stage of international issues has allowed her to win approving nods from Democrats and Republicans alike.
---