As Obama meets Karzai, future troop level in Afghanistan isn't only big issue
The meeting Friday at the White House between Obama and Afghanistan President Hamid Karzai may lay a foundation for the coming year's negotiations over US role in the country after 2014.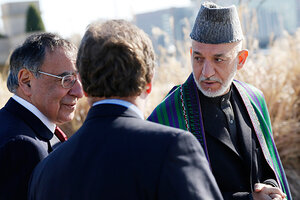 Jonathan Ernst/Reuters
President Obama hosts Afghanistan President Hamid Karzai at the White House for lunch and talks Friday, but the big questions hanging over the visit won't be answered there. Rather, pressing issues that remain after more than a decade of military involvement in Afghanistan will be resolved by pacts and commitments to be reached over the coming year, as the United States prepares to take its operations against the Taliban and Al Qaeda into a new phase.
Still, the meeting may help to lay the groundwork for the coming year's negotiations. The two leaders are expected to discuss the next steps in the transition from US and other international forces to Afghan security forces, as well as the requirements each side has for reaching a long-term bilateral security agreement, or BSA. Mr. Karzai is also likely to have in his pocket a wish list for military hardware.
That means no one is expecting any concrete decisions on Friday. Long-term stationing-of-forces agreements and civilian aid commitments remain to be worked out. And critical regional diplomacy still lies ahead.
---